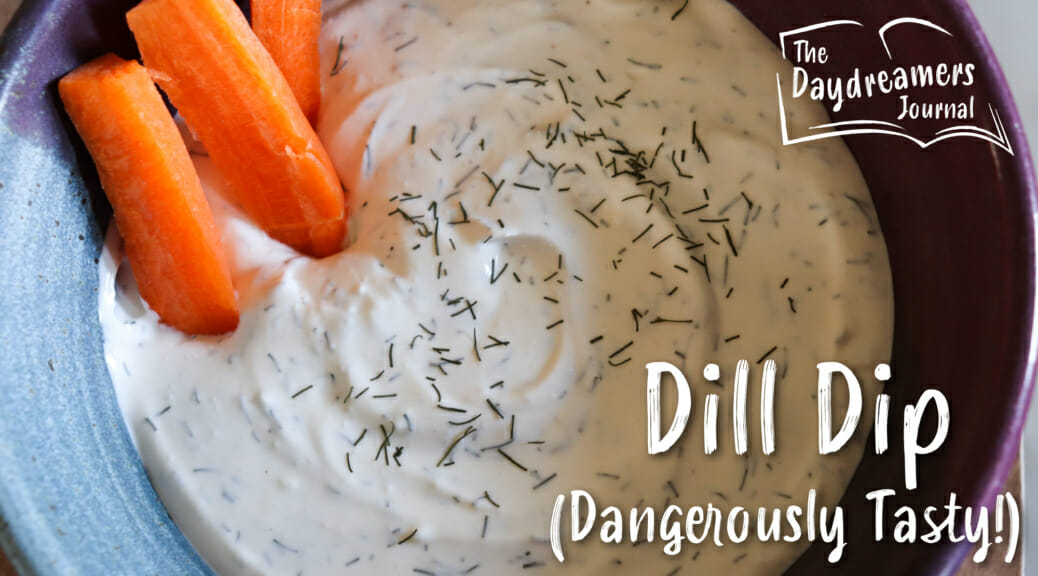 Dill Dip (Dangerously Tasty!)
Dill Dip (Dangerously Tasty!)
Some people are addicted to sweets. Others, to spice. Us? Dill dip.
Yes, I said dill dip. The great thing is, we've now shared our addiction with our friends! This is one of those recipes that you just can't get enough of. Whether it's chips, vegetables, or licking it off of the serving spoon, this dip is a favorite for all of our friends and family. Let's just say that vegetables tend to disappear much faster when this dip is around. What makes it so special? It's simplicity!
This recipe has adapted and changed over the years after we went looking for a recipe that didn't contain mayo (I'm not a huge fan… Well, Danielle's working on that bit 😛 There's this really tasty sandwich spread…). Where the original recipe came from, we're not really sure. But whoever made it, thanks for pointing us in the right direction!
Dill Dip (Dangerously Tasty!)
Course: Sides
Difficulty: Easy
A super tasty (and simple) dip that is sure to be a hit at any gathering!
Ingredients
8 oz Cream Cheese (room temperature)

1 cup Sour Cream

2 Tbsp Chopped Fresh Dill or 2 tsp Dried Dill

Onion Granules / Powder (to taste)

A Pinch of Black Pepper

2 Tbsp Milk
Directions
In a medium bowl, blend cream cheese, sour cream, onion granules/powder, dill, salt, and pepper together using a masher, whisk, or fork until smooth (expect it to be a bit clumpy at first)
Taste test and adjust seasoning as needed. The flavors will intensify after it has been in the fridge.
Refrigerate for at least 30 minutes to blend the flavors together
If the dip is too thick after chilling, stir in milk 1 Tbsp at a time until you reach desired consistency.
Grab some chips or veggies and enjoy!
Notes
This is also great on sandwiches or as a sandwich spread!
- Written By David D.